Description of equipment:
Animal Fats Oil Refining Equipment,the process adopts the international advanced level of "combination deacidification tower", deacidification ability, from the tower, tower packing, liquid distributor, liquid redistributor, support grid and the composition of gas and liquid imports and exports.On the basis of the traditional refining,a unique physical refining method, through the small holes on the tray tube into the oil into the steam,when deodorization, stripped of oil containing free fatty acids.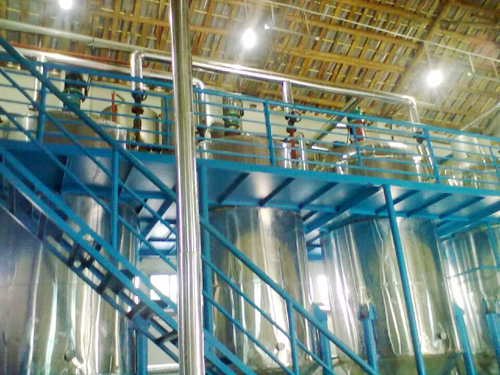 Compared with the general vegetable oil ,animal oil has an irreplaceable special flavor,which can increase people's appetite. Especially with radish, fans and soy products to match, you can get with other spices difficult to achieve delicious. Animal oil contains a variety of fatty acids, saturated fatty acids and unsaturated fatty acids content of the same, almost evenly divided, with a certain amount of nutrients, and can provide high heat. Cream in the body's digestion and absorption rate is high, up to 95% or more, vitamin A and vitamin D content is very high seasoning, containing less fat than butter, more suitable for vitamin A deficiency and the children and adolescents.
Major equipment:
Spiral plate heat exchanger, gas analyzer, heater, combined deodorization tower, fatty acid trap, cooler, four steam jet pump, thermal oil furnace unit.
Application:
Lard, butter, chicken oil, duck oil ... food grade / feed grade animal oil refining production